So, I wrote my first children's novel. It wasn't a graceful process, but I survived the stress and the solitude and the crippling self-doubt, and now my novel is about to enter the world. It's called The Wild Robot. If you have a few minutes I'd like to tell you about it.
Back in 2008, while working on a picture book called The Curious Garden, I spent a lot of time making sketches like this-
I loved imagining scenes of nature living in surprising places. And that got me thinking about scenes of unnatural things living in surprising places, and I made a few sketches like this-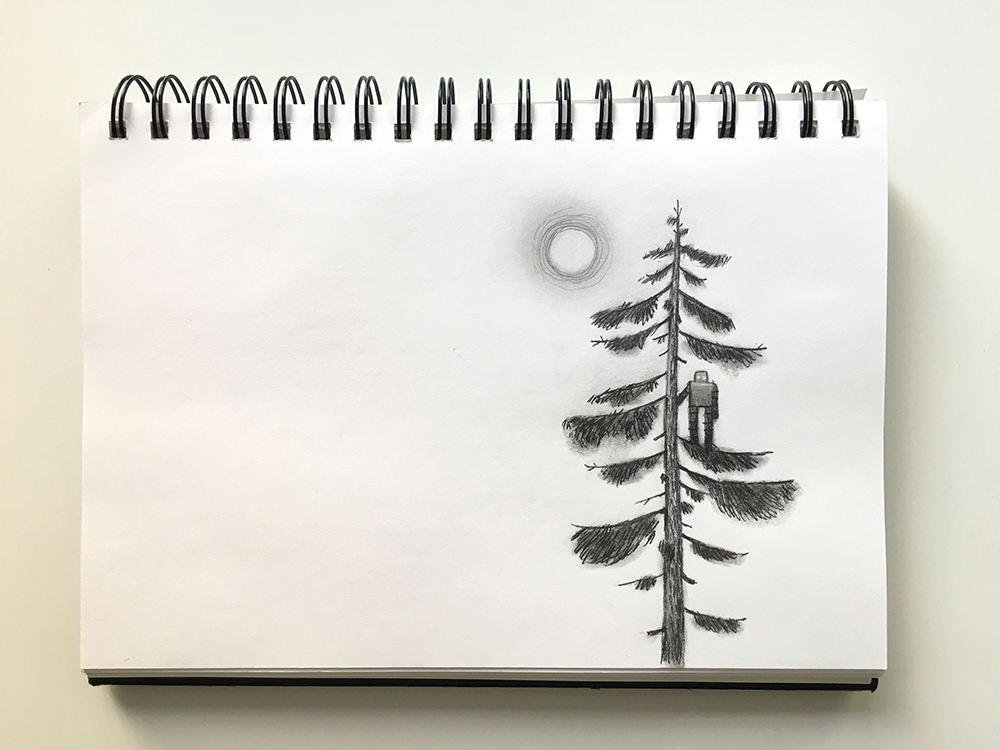 I was really intrigued by the image of a robot in a tree, and a question suddenly popped into my mind: What would an intelligent robot do in the wilderness?
I had to get back to work on The Curious Garden, but that question never left my mind. In my free time I scribbled notes about a robot in the wild. I drew more pictures of robots in trees. I'd always enjoyed reading science fiction, but now I was studying science fiction-
Most people don't know that the word "robot" comes from a 1920's science fiction play by Karel Čapek. The play is called R.U.R., which stands for Rossum's Universal Robots. Karel Čapek (with a little help from his brother) invented the word "robot." But he also invented one of the most familiar tropes of science fiction. In R.U.R., robots realize they don't need their human masters, so they rise up and destroy all of humanity. And sci-fi writers have been telling variations of that story ever since.
However, I wanted to tell a different kind of robot story. I wanted to tell the story of a robot who finds harmony in the last place you'd expect. I wanted to tell a robot nature story.
The years rolled by. I finished The Curious Garden, and went on to write and illustrate several more picture books. And all the while I was quietly tinkering with my robot nature story and studying everything from artificial intelligence to animal behavior to outstanding children's novels.
In 2012, after years of studying and thinking, I returned to the question that started this whole process: What would an intelligent robot do in the wilderness? To answer that question, I invented a robot character named Rozzum (a subtle nod to Čapek's play), and tried to imagine how she'd handle life in the wilderness.
Robots can take almost any shape and so I considered different designs and capabilities and purposes for Roz. She had to be strong and intelligent, but not too strong and not too intelligent. If readers were ever going to relate to a robot she would have to be vulnerable, not invincible. And it might help if she were humanoid—that is, if she had arms and legs and a head—so readers could imagine themselves in her shoes. Most important, she had to be able to learn.
And then there was the issue of Roz's gender.
We all know that real robots are neither male nor female. But the gender issue gets complicated when dealing with robot characters. Authors and filmmakers and playwrights almost always have to choose a pronoun (he, she, it) for each character, and by doing so they're committing to a gender, or lack thereof, for each character. At first, I assumed "it" would be the appropriate pronoun for Roz. But I had trouble caring about her when she was an "it." So I considered using a gender-neutral pronoun, like "ze," or inventing a pronoun just for my robot characters, like "re," but the story was challenging enough without having to explain invented grammar. Like so many science fiction authors before me, I decided to choose a gender-specific pronoun for my robot character. I looked closely at Roz's personality and the way others saw her and I decided she would be female.
For this to truly be a "robot nature story" Roz would need to encounter a wide variety of natural elements. And the story would have to take place in the future to explain the existence of intelligent robots. I imagined how the wilderness might look in a few hundred years, and two things occurred to me: 1) because of climate change and rising sea levels, animals from far and wide might eventually be forced together as they all seek higher ground, and 2) some of that higher ground might become completely surrounded by water, forming new islands. With that in mind, I set the story far in the future, on a rugged northern island that was formed by rising seas, and that had a diverse array of weather and flora and fauna.
Once I'd settled on Roz's design and a setting for her story, I began working on the plot. I started with the same exercise I use for my picture books: story mapping.
I spent a year mapping all the possible directions for the story. There was so much to consider! How might a robot become wild? Do robots have anything in common with wildlife? What kinds of lessons could Roz learn from a tree, or a storm, or an opossum? And why is Roz on an island in the first place?
After I'd mapped and plotted absolutely everything it was finally time to write. But I was nervous. So I procrastinated by making myself some writing rules:
You're not a poet, just tell the story plainly
Keep Roz mysterious by writing in the 3rd person
Make the chapters as short as possible
Write with symmetry and repetition, to mirror robots and nature
Give the narrator a conversational voice, especially during slow scenes
Understand the motivation behind each of Roz's actions
With my writing rules and my story maps and my research and my notes and my sketches in tow, I drove out to a cabin in the woods, brewed a pot of coffee, and opened my laptop. There was nothing left to do but write.
I began typing. I was no longer looking at the story with binoculars, but with a microscope. Up close, I realized just how hard it is to find the right words. But I tried not to self-edit and I let the words flow.
I spent over a year cobbling together my first draft of The Wild Robot. It was rough. Very rough. But Little, Brown & Company liked it enough to sign it up and in July of 2014 it became official: my robot nature story would be published! There was just one problem…I didn't know how to finish it.
Luckily, the wonderful Alvina Ling was on my side. My old friend and editor gave me her notes and I got back to writing. Over the following year-and-a-half I rewrote the entire story. Repeatedly. In the first draft, Roz was a soldier who arrived on the island via plane crash. But many of my early ideas presented serious logistical problems and I routinely went back to the drawing board. I did more research. I resumed story mapping. I lost all confidence. Things were moving in the wrong direction.
But I kept going. I simplified everything. The plot, the characters, the writing all became simpler, and they gradually started fitting together like puzzle pieces. The story grew more metaphorical and philosophical. The Wild Robot was feeling less like science fiction and more like a fable.
Dave Caplan is the creative director who worked with me on the book's design. Together, we made decisions about the jacket art and the case cover, chose paper stock and typefaces, and planned the placement of each illustration.
Most authors have very little control over the appearance of their books. But as an author and illustrator, I worked on every aspect of my book's appearance.
One day, Alvina informed me it was almost time to print the Advanced Reader Copies of The Wild Robot, so I should polish the text and complete the cover art and as much interior art as possible. ARCs are the early, unfinished copies of a book that publishers give to booksellers and reviewers to drum up excitement before publication. I wanted the ARCs to make a great first impression, but there was only so much I could do in the time allowed. I sent in the final cover art, a few rough sketches, and the best draft I could muster. The ARCs were printed in July 2015, but I wouldn't finish the words and pictures for another six months.
I had mixed feelings when the ARCs arrived. It was exciting to see The Wild Robot in physical form, but I knew the finished book would be very different. Oh well. My publisher sent out the ARCs and responses started rolling in. The Wild Robot received its first official review in November 2015, two months before I finished working on it. Miraculously, it was a starred review.
I rewrote entire chapters.
I changed character names.
I obsessively examined every word.
When I wasn't furiously typing, I was furiously sketching.
It was now time for the "First Pass Pages." Alvina explained that we'd reached the home stretch, and going forward, all text changes should be minor and would be made by marking up printouts with a pencil. This seemed a little archaic, but it's easier for everyone to keep track of changes if they're all in one physical document. So they sent me the pages, I marked them up, the copyeditor reviewed my changes, and the designer updated the master file.
The last six months of the process were chaotic. My social life and sleeping habits went straight down the drain as I frantically reworked the text and frantically created the final art. I didn't want the illustrations to tell the whole story, just to set the tone, so I tried to keep them simple and moody. Simple or not, I had sixty-five illustrations to create, which was daunting. It seemed like this project would never end.
Dave and the production team reviewed proofs of the jacket and some of the interior art, and then worked with the printer to ensure that the final books would look just right.
And then things took a tragic turn. On December 25 Alvina's husband lost his long battle with cancer. His passing devastated everyone. Alvina immediately took a leave of absence. Suddenly, the book I'd been obsessing over seemed meaningless. All I wanted to do was curl up in a ball. But my publisher needed me to finish this book, once-and-for-all. At the end of a marathon project, I crawled across the finish line.
On January 12, 2016, I sent off the very last revisions. Years of studying and thinking and mapping and sketching and typing and illustrating and revising had finally come to an end. My work on The Wild Robot was over.
A month later, this showed up.
            The Wild Robot is the story of Rozzum unit 7134, a robot who wakes up for the very first time to find that she's alone on a remote, wild island. Roz doesn't know how she got there, or where she came from: she only knows that she wants to stay alive. And by robotically studying her environment she learns everything she needs to know. She learns how to move through the wilderness, how to avoid danger, she even learns how to communicate with the animals. But the most important lesson Roz learns is that kindness can be a survival skill. And she uses kindness to develop friends and a family and a peaceful life for herself. Until her mysterious past catches up with her.
It took eight years, but I finally found an answer to the question that led me down this path. What would an intelligent robot do in the wilderness? She'd make the wilderness her home.
---
The Wild Robot is now available wherever books are sold. As always, I encourage everyone to buy books from Indie Bookstores for reasons I explain in this Blog Post.