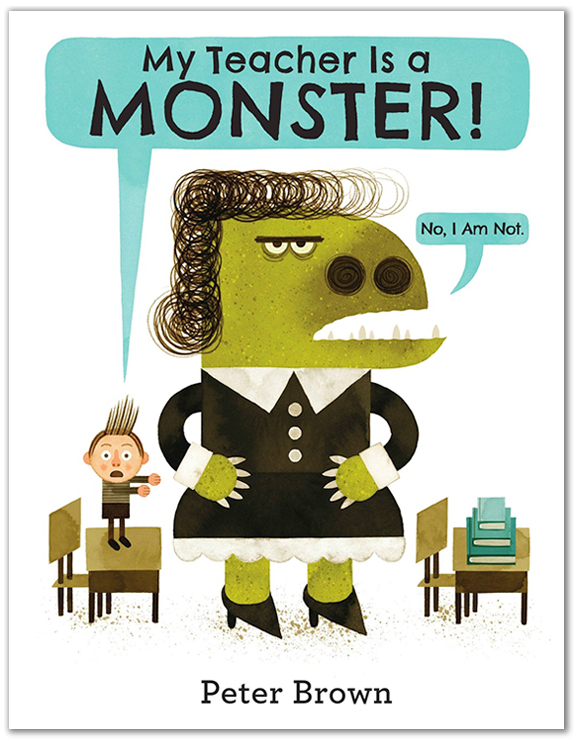 I really love teachers. My mom and aunt and grandmother were teachers. Many of my friends are teachers. And I've had dozens of truly remarkable teachers throughout my life. So it might seem strange that I'd celebrate teachers with a children's book about a monster teacher. But that's what I did. Let me explain.
One of the best things that ever happened to me was a surprising act of kindness, from a primary school teacher who I thought was a monster. I was a sensitive little kid at the time, and my teacher was strict, and humorless, and tougher than anyone I'd ever known. I was convinced she didn't like me, and I was stuck with her for an entire school year.
But then one day my teacher became very interested in one of the drawings I'd made in class. The drawing was of a country road lined with telephone poles, all of which got smaller and smaller as they faded toward the distant horizon. My teacher was especially interested in the fact that I'd drawn the scene in one-point-perspective. I'd never even heard of one-point-perspective, I just drew the scene as I imagined it. But my teacher was so impressed that she immediately took my drawing to the art teacher and the principal, and insisted that I be placed in our school's advanced art program. Thanks to my "monster" teacher I began taking advanced art classes, taught by a high school art teacher, surrounded by other young art students. And just like that, I felt like a real artist.
The timing could not have been better. You see, that was the year my parents split up. It was a complicated situation. But when life was tough I had my art to keep me company. The self-confidence I gained from feeling like a real artist was invaluable during those years. And I might not have developed my artistic skills, or a sense of confidence, if not for my monster teacher.
I can recall plenty of purely wonderful teachers from my childhood. I could have easily created a sweet story about a wonderful teacher doing wonderful things. But I wanted to challenge my readers' idea of what it means to be a teacher. I thought a story about a difficult teacher and a difficult student working through their differences would be more surprising and funny and honest, and would better reflect the unexpected little life lessons that often happen between teachers and students.
I needed to make sure my story ideas were on target, so I started asking people about their own experiences in school. I asked teachers how they handle difficult children. I asked children how they handle difficult teachers. I asked my friends about their experiences in primary school. People had a lot to say. And their words helped me refine my ideas.
The story I decided to tell is about a gruff teacher named Ms. Kirby, and a sensitive kid named Bobby. We see the whole story from Bobby's point of view. In the beginning, he imagines Ms. Kirby to look like a monster, so we see her as a monster. But then Bobby bumps into Ms. Kirby in the park, and the shock of seeing her outside of school helps him realize that she's not just a teacher, she's a person. And just as my teacher seemed less like a monster after helping me, Bobby's teacher looks less like a monster as he slowly learns that she isn't so bad.
It's a tricky operation, creating a story about a little kid and a monster teacher. I wanted both of my characters to be flawed but likeable. I took inspiration from a thousand different experiences. The words went through countless revisions, and the art has changed considerably over time. But after tinkering with my ideas for several years they finally turned into a visual story I thought my readers might appreciate.
And now the book is finished. It's entitled My Teacher Is a Monster! (No, I Am Not.). I hope you enjoy.
NOTE: Happily, the feud between Amazon and my publisher is over. However, I'd still encourage you to buy my books from an independent bookseller by clicking the Indiebound link below.