The Curious Garden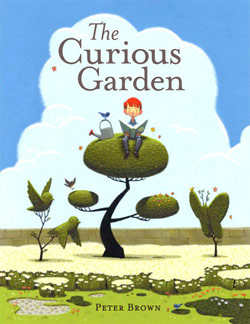 While out exploring one day, a little boy named Liam discovers a struggling garden and decides to take care of it. As time passes, the garden spreads throughout the dark, gray city, transforming it into a lush, green world.
This is an enchanting tale with environmental themes and breathtaking illustrations that become more vibrant as the garden blooms. Red-headed Liam can also be spotted on every page, adding a clever seek-and-find element to this captivating picture book.
A New York Times Bestseller
E.B. White Read-Aloud Picture Book Award (2010)
Children's Choice Illustrator of the Year Award (2010)
An ALA Notable Children's Book (2010)
"A quietly marvelous picture book."—The New York Times Book Review
"Brown's latest is a quiet but stirring fable of urban renewal, sure to capture imaginations."—Publishers Weekly, starred review
"Beautiful and offbeat, readers will certainly fall in love with this irresistibly curious corner of the world."—Meghan Dietsche Goel, Children's Book Buyer, BookPeople (Austin, TX)
"Brown's flat, faintly retro graphics make a vigorous accompaniment to his fey text, which personifies the 'curious garden' with appealing earnestness."—Kirkus Reviews
"The simple words have a lyrical, rhythmic quality that will read aloud well, and they reinforce the sense that the natural world is a living, breathing character. It's the illustrations, though, that will engage kids most. Combining panels with full-page illustrations and many wordless spreads, the pages show the city's inspiring progression from a dull, dreary place to a fantastical, organic metropolis."—Booklist
April 2009
Little, Brown Books for Young Readers
Hardcover
ISBN 9780316015479
Ages 3 to 8
Also available in the following languages:
Basque
Catalan
Chinese – Simplified
French
German
Hebrew
Japanese
Korean
Portuguese
Portuguese (Brazil)
Russian
Spanish
Vietnamese
Click here for downloadable poster and education guide.