Creepy Carrots!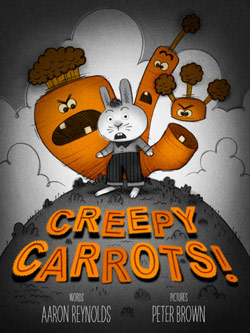 written by Aaron Reynolds
illustrated by Peter Brown
The Twilight Zone comes to the carrot patch in this clever picture book parable about a rabbit who fears his favorite treats are out to get him.
Jasper Rabbit loves carrots—especially Crackenhopper Field carrots.
He eats them on the way to school.
He eats them going to Little League.
He eats them walking home.
Until the day the carrots start following him…or are they?
It's all fun and games  . . . until you get too greedy.
A 2013 Caldecott Honor Book
A New York Times Bestseller
An ALA Notable Children's Book
"Serve this superbly designed title to all who relish slightly scary stories."—Kirkus Reviews, starred review
"A spot-on parody of a paranoid thriller …"—Publishers Weekly, starred review
"Brown's panels–bordered in black, drawn in pencil, and digitally composed and colored–cleverly combine the mood of film noir with the low-tech look of early children's television staging for an aesthetic that is atmospheric, but not overwhelming … Panels in varying sizes and multiple perspectives keep pace with Reynolds's tongue-in-cheek narrative . . . This age-appropriate horror story takes children's fears seriously and then offers them an escape through genuine comic relief."—School Library Journal
"With pitch perfect illustration by the increasingly talented Peter Brown, this beautifully shaded creation is a great example of how to get the tone of a picture book exactly right. Strange and wonderful and weird in all the right places. A masterpiece of the scary/funny balance."—Elizabeth Bird (A Fuse 8 Production)
August 2012
Simon & Schuster
Hardcover
ISBN 9781442402973
Ages 4 to 8