Books
---
Signed copies of Peter's books may be purchased through WORD bookstore in Brooklyn. Click here for more information.
---
My Teacher is a Monster! (No, I Am Not.)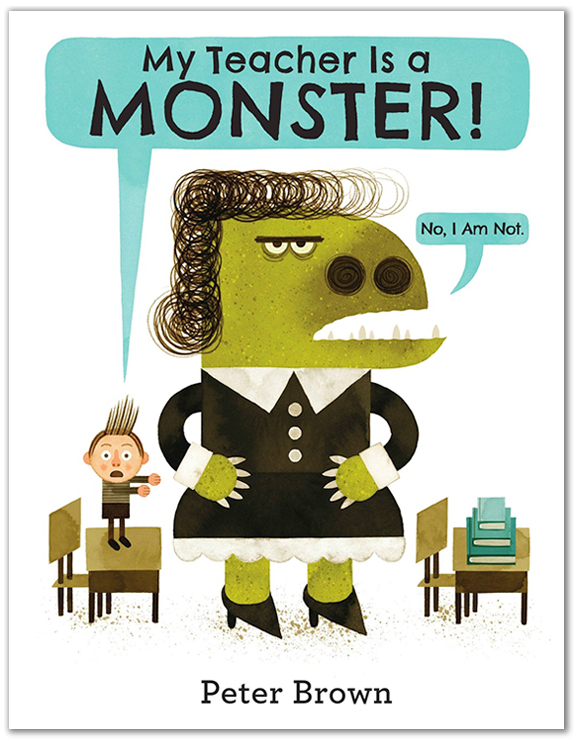 Bobby has a big problem at school.
Her name is Ms. Kirby.
She's loud, she yells, and if you throw paper airplanes, she won't allow you to enjoy recess. Ms. Kirby is a monster! Luckily, Bobby can go to the park on weekends to unwind. Until one day… one the way to his favorite spot…Bobby finds a terrible surprise. Ms. Kirby. But as he gets to know Ms. Kirby outside of school, something strange happens. She begins to look a bit less like a monster, and a bit more like a person.
An Indiebound Indie Next Book
"This playful, eye-catching story goes a long way to humanize both teachers and students."
—Booklist, starred review
"Brown makes it clear that teachers are people too – even the "mean" ones."
—Publishers Weekly, starred review
"The digitally composited and colored India ink, watercolor, gouache and pencil illustrations use a palette of green, shades of tan and brown, aqua and salmon that suits the text's tongue-in-cheek humor and monster theme. Here's hoping readers who are similarly challenged in the behavior department will get both messages: Teachers are people, and they give back what they get." —Kirkus, starred review
July 2014
Little, Brown Books for Young Readers
Hardcover
ISBN 9780316070294
Ages 4 to 8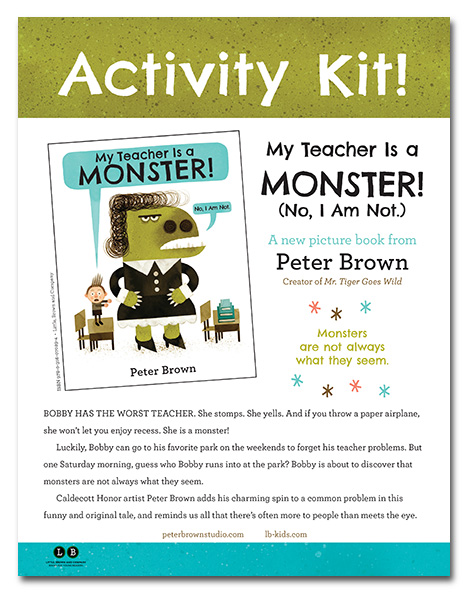 Click Here to Download the Activity Kit
---
Mr. Tiger Goes Wild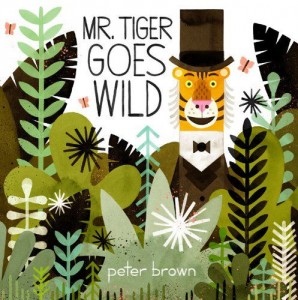 Everyone was perfectly fine with the way things were. Everyone but Mr. Tiger. And then came the day when Mr. Tiger had a very…wild…idea.
A New York Times Bestseller
An IndieBound Bestseller
Winner of the 2014 Boston Globe Horn Book Award for Picture Books
Winner of the 2014 Golden Kite Award for Picture Book Illustration
Winner of the 2014 Bull-Bransom Award
Winner of a 2014 E.B. White Read Aloud Honor
A 2013 Wanda Gag Read Aloud Honor Book
An ALA Notable Book
"There's a lot to go wild for in this picture-book celebration of individuality and self-expression. Hooray for Mr. Tiger and his wild ways!"—Kirkus Reviews, starred review
" . . . a gratifying parable about self-actualization . . . Readers who prefer the view from underneath the dinner table will find a kindred soul in Brown's brightly burning character who knows that the wilderness is always waiting, should the need arise."—Publishers Weekly, starred review
"This "it's okay to be different" story stands out from other picture books on the topic thanks to Brown's delightfully clever illustrations and masterful compositions . . . Sure to be an instant read-aloud classic in classrooms and libraries." —School Library Journal, starred review
"With its skewed humor and untamed spirit this joyous exploration of quasi-reverse anthropomorphism will delight listeners again and again."—Booklist, starred review
"This is a book made for storytime . . . Children, who get tired of grownups and their requests for proper behavior, will relate to the proud joy Mr. Tiger clearly feels when he is free to be wild, and also to his eventual feelings of loneliness. The happy ending, almost a reverse of Where the Wild Things Are, includes everyone discovering the fun of being at least a little bit wild."—Horn Book, starred review
September 2013
Little, Brown Books for Young Readers
Hardcover
ISBN 9780316200639
Ages 3 to 6
---
Creepy Carrots!
written by Aaron Reynolds
illustrated by Peter Brown
The Twilight Zone comes to the carrot patch in this clever picture book parable about a rabbit who fears his favorite treats are out to get him.
Jasper Rabbit loves carrots—especially Crackenhopper Field carrots.
He eats them on the way to school.
He eats them going to Little League.
He eats them walking home.
Until the day the carrots start following him…or are they?
It's all fun and games  . . . until you get too greedy.
A 2013 Caldecott Honor Book
A New York Times Bestseller
An ALA Notable Children's Book
"Serve this superbly designed title to all who relish slightly scary stories."—Kirkus Reviews, starred review
"A spot-on parody of a paranoid thriller …"—Publishers Weekly, starred review
"Brown's panels–bordered in black, drawn in pencil, and digitally composed and colored–cleverly combine the mood of film noir with the low-tech look of early children's television staging for an aesthetic that is atmospheric, but not overwhelming … Panels in varying sizes and multiple perspectives keep pace with Reynolds's tongue-in-cheek narrative . . . This age-appropriate horror story takes children's fears seriously and then offers them an escape through genuine comic relief."—School Library Journal
"With pitch perfect illustration by the increasingly talented Peter Brown, this beautifully shaded creation is a great example of how to get the tone of a picture book exactly right. Strange and wonderful and weird in all the right places. A masterpiece of the scary/funny balance."—Elizabeth Bird (A Fuse 8 Production)
August 2012
Simon & Schuster
Hardcover
ISBN 9781442402973
Ages 4 to 8
---
YOU WILL BE MY FRIEND!
Today is the day the exuberant Lucy is going to make a new friend! But she finds it's harder than she had thought–she accidentally ruins the giraffe's breakfast and is much too big for the frogs' pond. Just when she's about to give up, an unexpected friend finds her, and loves her just the way she is.
A New York Times Bestseller
An Irma Simonton Black and James H. Black Award for Excellence in Children's Literature Honor Book (2012)
"Splendid artwork … I click with this book. Brown has pushed his style past its smoother beginnings … Who knows how he does it, really? The appeal of You Will Be My Friend! is as deep a mystery as friendship, but I'm not interested in delving into its mysteries. I just want to take it to lunch."—Reviewed by Daniel Handler (aka Lemony Snicket) for The New York Times Book Review
"Charming … this title eschews the cute."—Kirkus Reviews
"The mixed-media art, featuring woodsy cartoon backgrounds, and the omniscient narration combine to make this an even funnier follow-up to Children Make Terrible Pets (2010)."—Booklist
September 2011
Little, Brown Books for Young Readers
Hardcover
ISBN 9780316070300
Ages 3 to 8
---
Children Make Terrible Pets
When Lucy, a young bear, discovers a boy in the woods, she's absolutely delighted. She brings him home and begs her mom to let her keep him, even though her mom warns, "Children make terrible pets." But mom relents, and Lucy gets to name her new pet Squeaker.
Through a series of hilarious and surprising scenes, readers can join Lucy and Squeaker on their day of fun and decide for themselves whether or not children really do make terrible pets.
A New York Times Bestseller
A New York Times Best Illustrated Children's Book (2010)
E.B. White Read-Aloud Picture Book Award (2011)
An Irma Simonton Black and James H. Black Award for Excellence in Children's Literature Honor Book (2011)
"Peter Brown turns the classic picture book imagery of animals who act like people on its head … Joyfully animated illustrations"—The New York Times Book Review
"Appealing and humorous."—School Library Journal
"Distinctive multimedia art … has a playful, old-time style that matches the woodsy setting and the enjoyable story's upbeat tone."—Booklist
"A funny, uniquely illustrated 'What is this?' of a book, Children Make Terrible Pets is just the sort of creative ridiculousness that a large category of kids tend to gravitate toward."—100ScopeNotes.com
September 2010
Little, Brown Books for Young Readers
Hardcover
ISBN 9780316015486
Ages 3 to 8
---
The Purple Kangaroo
written by Michael Ian Black
illustrated by Peter Brown
The monkey narrator in this humorous picture book guarantees that he can READ YOUR MIND. What begins as a simple request to imagine the most spectacular thing in history turns into the story of a roller-skating, bubble-blowing purple kangaroo searching for his dear friend Ernesto on the moon. So by the time you finish this book, there's no chance you will be thinking of anything BUT the purple kangaroo.
"Peter Brown's digitally tweaked acrylic-and-pencil artwork makes use of many comic-book techniques, including cartoon-styled figures, speech and thought bubbles, and iconic lines to convey information. the sheer silliness of these characters and situations is sure to be a hit with its intended listeners."—Booklist
December 2009
Simon & Schuster
Hardcover
ISBN 9781416957713
Ages 4 to 8
---
The Curious Garden
While out exploring one day, a little boy named Liam discovers a struggling garden and decides to take care of it. As time passes, the garden spreads throughout the dark, gray city, transforming it into a lush, green world.
This is an enchanting tale with environmental themes and breathtaking illustrations that become more vibrant as the garden blooms. Red-headed Liam can also be spotted on every page, adding a clever seek-and-find element to this captivating picture book.
A New York Times Bestseller
E.B. White Read-Aloud Picture Book Award (2010)
Children's Choice Illustrator of the Year Award (2010)
An ALA Notable Children's Book (2010)
"A quietly marvelous picture book."—The New York Times Book Review
"Brown's latest is a quiet but stirring fable of urban renewal, sure to capture imaginations."—Publishers Weekly, starred review
"Beautiful and offbeat, readers will certainly fall in love with this irresistibly curious corner of the world."—Meghan Dietsche Goel, Children's Book Buyer, BookPeople (Austin, TX)
"Brown's flat, faintly retro graphics make a vigorous accompaniment to his fey text, which personifies the 'curious garden' with appealing earnestness."—Kirkus Reviews
"The simple words have a lyrical, rhythmic quality that will read aloud well, and they reinforce the sense that the natural world is a living, breathing character. It's the illustrations, though, that will engage kids most. Combining panels with full-page illustrations and many wordless spreads, the pages show the city's inspiring progression from a dull, dreary place to a fantastical, organic metropolis."—Booklist
April 2009
Little, Brown Books for Young Readers
Hardcover
ISBN 9780316015479
Ages 3 to 8
Click here for downloadable poster and education guide.
---
The Fabulous Bouncing Chowder
When Chowder goes off to the Fabu Pooch Boot Camp, as usual he just doesn't fit in. Chowder tries his best, but his attempts to make himself more fabulous all fall flat. When the First Annual Fabu Pooch Pageant is announced, Chowder anxiously tries to think of a way to stand out. After all, the prize is a one-year supply of Snarf Snacks! Some pups practice their pearly grins, other hounds get massages to relax. One pooch even gets permed! But Chowder finds his calling when he discovers a trampoline.
Winner of the 2010 Prairie Bud Award (South Dakota)
"The sturdy artwork, in acrylic-and-pencil on board, goes for humor … this combines lots of wit with lots of energy … fans of the first book and new readers will enjoy the antics."—Booklist
"For those who love an underdog."—Kirkus Reviews
September 2007
Little, Brown Books for Young Readers
Hardcover
ISBN 9780316011792
Ages 3 to 7
---
Chowder
As hard as he tries, Chowder has never managed to fit in with the other neighborhood dogs. While the neighborhood dogs are content to fetch newspapers and take walks, Chowder spends his days on the computer, dancing with his headphones, and using his favorite toy of all, his telescope. But being different makes Chowder lonely. When a petting zoo opens, Chowder is determined to make friends with the zoo animals. And with a strong kick and a flying leap, Chowder finally finds a place where he can be comfortable being his silly, slobbery self.
"Everything works here. The tongue-in-cheek humor melds delightfully with Brown's distinctive acrylic-and-pencil artwork. The characters have such a sturdy appearance, they look as though they could be carved from wood, and high-gloss finish gives the art a computer-enhanced look. Inventive is the best word to describe the design … But along with the glitz, there's also a real story here, starring a winsome protagonist."—Booklist, starred review
"It's wacky comedy and the quest for acceptance will best be appreciated by those who've been around the block a few times. Fans of Anthony Browne and Craig Frazier will sit up and beg for more."—School Library Journal
September 2006
Little, Brown Books for Young Readers
Hardcover ISBN 9780316011808
Trade paperback ISBN 978-0316200882
Ages 3 to 7
---
Flight of the Dodo
When Penguin gets pooped on by a goose flying by, he becomes more determined than ever to learn to fly. So, with the help of his other flightless friends (aka the Waddlers), the foursome builds a flying machine that takes them on an adventure like none they've ever known. A comic adventure story about the desire to fly, the persistence to dream big, and poop!
"Brown's breathtaking full-bleed spreads . . . with vistas of land, sea and sky that stretch past the pages' boundaries. Brown sneaks in numerous visual jokes sure to appeal to youngsters. An engaging and mischievous romp that marks the start of a promising new talent."—Publishers Weekly
"Smoothly modulated colors and odd looking but precisely modeled figures give the airbrushed acrylic illustrations a sophisticated sheen that makes the storyline, and a plethora of visual gags, all the funnier."—Kirkus Reviews
October 2005
Little, Brown Books for Young Readers
Trade paperback
ISBN 9780316083393
Ages 4 to 8
---
Chapter books illustrated by Peter Brown
Kaline Klattermaster's Tree House
written by Haven Kimmel
February 2008
Atheneum Books for Young Readers
Paperback ISBN 9780689874031
Ebook ISBN 9781416999157
Ages 7 to 12
---
Snowbone
written by Cat Weatherill
July 2007
Knopf Books for Young Readers
Hardcover ISBN 9780375833281
Paperback ISBN 9780440420781
Ebook ISBN 9780307491091
Ages 8 to 12
---
Barkbelly
written by Cat Weatherill
June 2006
Knopf Books for Young Readers
Ebook ISBN 9780307481993
Ages 8 to 12