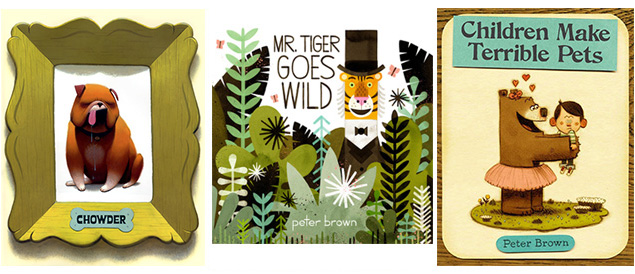 If you're familiar with my children's books you've probably noticed that my art style changes from book to book. There are a couple of reasons for this:
1) I get bored, and so I try new things to keep it interesting.
2) I let my illustrations to do most of my storytelling. But I think certain art styles are better suited to tell certain kinds of stories. So I change my art style to better tell each particular story.
With that said I want to talk about my inspiration for my picture book Mr. Tiger Goes Wild. The initial idea for the book was a simple thought experiment: I wanted to see what would happen when an anthropomorphic animal character (that is, an animal character who walks and talks and lives very much like a human) got in touch with his true animal nature and became wild.
I began by studying how other authors and artists handled anthropomorphism. I read countless children's books that involved animal characters, books like Watership Down, Animal Farm and The Story of Babar. I also studied animated films for ideas. I grew up loving classic Disney films like The Jungle Book, Robin Hood and Fantasia, films that did interesting things with anthropomorphism, and so I returned to those films in my search for inspiration. And I pored over books like The Illusion of Life, which discusses the entire Disney animation process, from initial ideas through development, production, and even post-production.
Disney  artists like Eyvind Earle and Mary Blair were master illustrators. Their jobs were to design the look and feel of characters and of scenes and of entire animated films. Their modernist style led me to other mid-century illustrators such as Charley Harper, Roger Duvoisin, Leonard Weisgard, and the team of Alice and Martin Provensen (who both happened to have backgrounds in animation).
I studied all of those various artists and storytellers, and many others, as I began work on my picture book.  I took notes on how my favorite authors handled animal characters, story arcs, and the relationships between words and pictures. I covered the walls of my studio with copies of my favorite illustrations from those artists, I literally surrounded myself with my favorite art, and I began to notice patterns in my taste. I found that I liked how these artists used layers of line and texture over big bold shapes of solid color. I liked how their art was high contrast and how they often used simple, unified color palettes. I might like how one artist handled plants, and how another handled texture, and how another used white space, and I tried to come up with unique ways of combining those different elements in my own art.
Slowly-but-surely my story began coming together, and slowly-but-surely my art style evolved into something new and exciting for me…a style that I thought was particularly appropriate for the story I was trying to tell.
All artists have outside influences (whether they realize it, or not). I've chosen to actively pursue influences, rather than passively wait to be influenced. Sometimes I discover new directions for my art by experimenting in my sketchbook, other times I discover new directions by analyzing how I feel about the work of other artists. In my tiger book, I think you'll see hints of Eyvind Earl, Mary Blair, the Provensens, Charley Harper and Leonard Weisgard. You might even hear whispers of The Story of Babar, Frog and Toad, or Animal Farm. But my hope is that I've combined all of those different inspirations in my own unique way, to tell the story of how Mr. Tiger found his true self.