PETER BROWN
Studio
Peter Brown is an author and illustrator of children's books. His award-winning titles include New York Times bestsellers like  The Curious Garden, Children Make Terrible Pets, and You Will Be My Friend!. Creepy Carrots!, written by Aaron Reynolds, was named a 2013 Caldecott Honor book. Peter's newest picture book is Mr. Tiger Goes Wild.
---
Current Happenings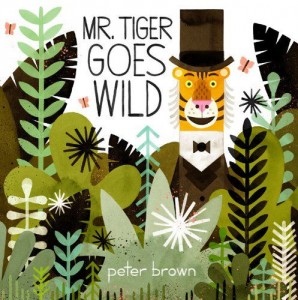 MR. TIGER GOES WILD is a New York Times bestseller, an IndieBound bestseller, and an ALA Notable Book…fist pump! Here are some of the great reviews the book has received -
"This 'it's okay to be different' story stands out from other picture books on the topic thanks to Brown's delightfully clever illustrations and masterful compositions . . . Sure to be an instant read-aloud classic in classrooms and libraries." —School Library Journal, starred review
". . . a gratifying parable about self-actualization . . . Readers who prefer the view from underneath the dinner table will find a kindred soul in Brown's brightly burning character who knows that the wilderness is always waiting, should the need arise."
—Publishers Weekly, starred review
"There's a lot to go wild for in this picture-book celebration of individuality and self-expression. Hooray for Mr. Tiger and his wild ways!"—Kirkus Reviews, starred review
"With its skewed humor and untamed spirit this joyous exploration of quasi-reverse anthropomorphism will delight listeners again and again."—Booklist, starred review
"This is a book made for storytime . . . Children, who get tired of grownups and their requests for proper behavior, will relate to the proud joy Mr. Tiger clearly feels when he is free to be wild, and also to his eventual feelings of loneliness. The happy ending, almost a reverse of Where the Wild Things Are, includes everyone discovering the fun of being at least a little bit wild."—Horn Book, starred review
---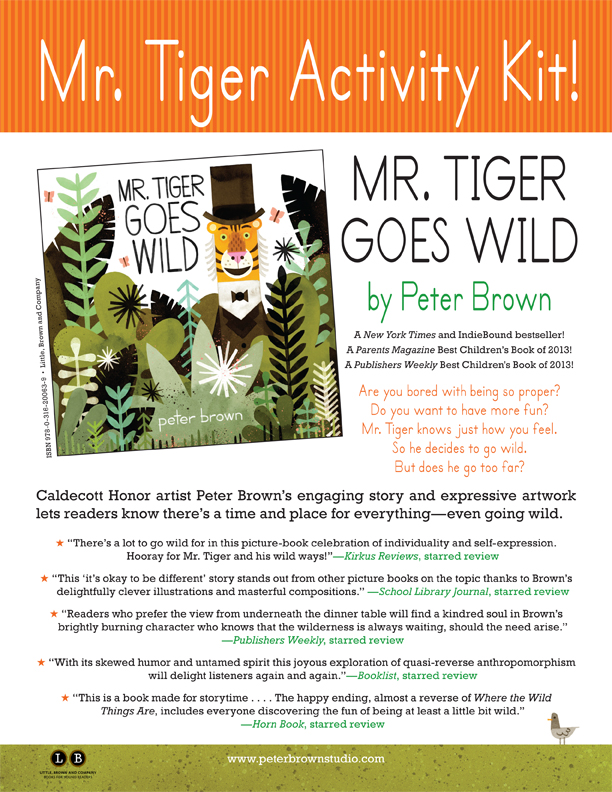 ROAR! There is now a Mr. Tiger activity kit!
Click here to download the printable kit.
Click here to download bonus activity kit holiday pages.
---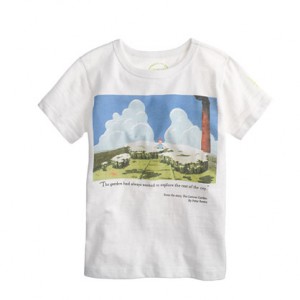 This is cool! Crewcuts (by J.Crew) is selling two different Curious Garden t-shirts to benefit the High Line park in NYC! (Fyi, The Curious Garden is a children's book Peter made a few years ago. And the The High Line has got to be one of the coolest city parks in the world). Click here to buy a shirt. There is also a second design available here.
---
WORD is now the place to purchase signed copies of Peter's books. Signed copies are available online, all year long.
---
From the Blog

subscribe to
the blog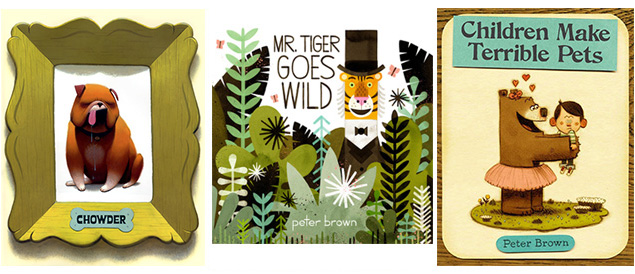 If you're familiar with my children's books you've probably noticed that my art style changes from book-to-book. There are a couple of reasons for this:
1) I get bored, and so I try new things to keep it interesting.
2) I let my illustrations to do most of my storytelling. … Read more…