PETER BROWN Studio
Peter Brown is an author and illustrator of children's books. His titles include New York Times bestsellers like  The Curious Garden, Children Make Terrible Pets, and Mr. Tiger Goes Wild. Peter's illustrations for Creepy Carrots!, written by Aaron Reynolds, earned him a 2013 Caldecott Honor.
---
Current Happenings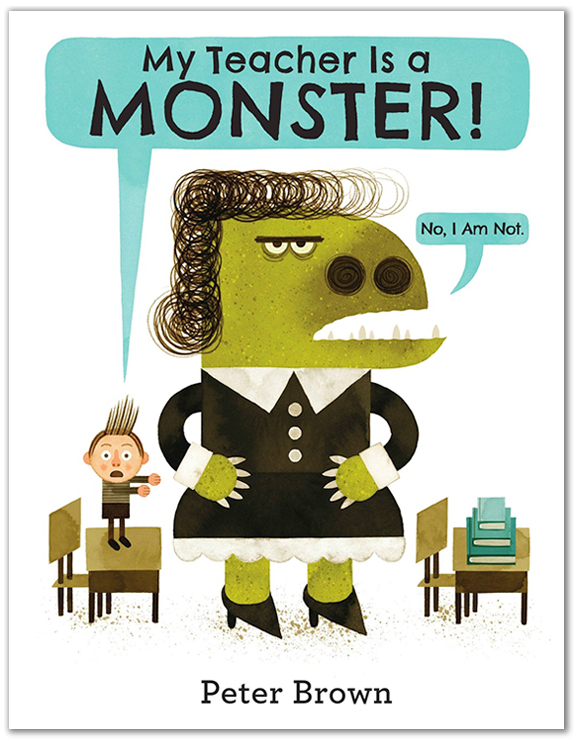 Bobby has a problem. You see, his teacher is a monster. But when Bobby runs into his teacher outside of school, he learns there is more to her than meets the eye.
Peter's newest book, My Teacher is a Monster! (No, I Am Not.), is now in stores! Check out Peter's EVENT SCHEDULE to see if he'll be visiting your area. And check out his BLOG to learn more about the making of the book.
Order a copy from an independent bookstore by clicking Indiebound.org 
Order a signed copy from our friends at WORD.
Praise for My Teacher is a Monster! (No, I Am Not.) –
An ALA Notable Book
An Indiebound Indie Next Book
An Indiebound Bestseller
"This playful, eye-catching story goes a long way to humanize both teachers and students."
—Booklist, starred review
"Brown makes it clear that teachers are people too – even the "mean" ones."
—Publishers Weekly, starred review
"The digitally composited and colored India ink, watercolor, gouache and pencil illustrations use a palette of green, shades of tan and brown, aqua and salmon that suits the text's tongue-in-cheek humor and monster theme. Here's hoping readers who are similarly challenged in the behavior department will get both messages: Teachers are people, and they give back what they get." —Kirkus, starred review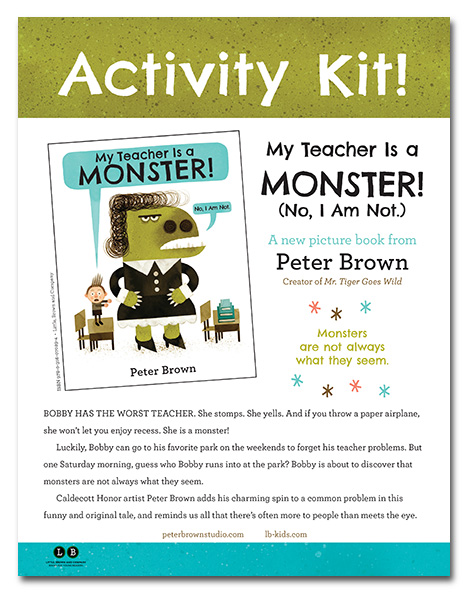 Click Here to Download the Activity Kit
---
WORD is the place to purchase signed copies of Peter's books. Signed copies are available online, all year long.
---
From the Blog

subscribe to
the blog
My Teacher Is a Monster! (No, I Am Not.)
I really love teachers. My mom and aunt and grandmother were teachers. Many of my friends are teachers. And I've had dozens of truly remarkable teachers throughout my life. So it might seem strange that I'd celebrate teachers with a children's book about a monster teacher. But that's what I did. Let me explain. One […]