PETER BROWN Studio
Peter Brown is an author and illustrator of children's books. His titles include New York Times bestsellers like The Wild Robot, The Curious Garden, Children Make Terrible Pets, and Mr. Tiger Goes Wild. Peter's illustrations for Creepy Carrots!, written by Aaron Reynolds, earned him a Caldecott Honor.
---
Current Happenings
Peter is working hard to finish the sequel to his bestselling middle grade novel, The Wild Robot. Roz returns in March of 2018—we hope you're as excited for The Wild Robot Escapes as we are!
In the meantime, Peter has once again teamed up with author Aaron Reynolds to bring you a new creep-tastic Halloween treat! In CREEPY PAIR OF UNDERWEAR!, the follow-up to Creepy Carrots!, Jasper Rabbit bravely deals with yet another familiar object behaving not quite as it should. This time, it's his undies that seem to be ghoulishly glowing.
On August 15th, you can find Creepy Pair of Underwear! wherever books are sold, including ONLINE from your local bookseller. Peter will also be touring in the Eastern United States this summer and fall, so be sure to check if he's doing an event near you.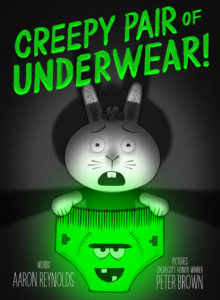 CREEPY PAIR OF UNDERWEAR is getting great buzz:
"Balances a really spooky premise with the hilarity that accompanies any mention of underwear… Perfect for those looking for a scary Halloween tale that won't leave them with more fears than they started with."—Kirkus Reviews, starred review
"Once again, Reynolds and Brown are in perfect comedic synch as they channel the surprises and creeping dread of a thriller. Brown's noir-style b&w illustrations make the most of the premise, and the innate absurdity of being afraid of one's undergarments will be a surefire winner with many kids."—Publishers Weekly, starred review
"This strikes the ideal balance between frightening and hilarious, and like the underwear itself, readers are guaranteed to keep coming back for this storytime platinum!"—Booklist, starred review
---
Order Peter's books from an independent bookstore by clicking Indiebound.org 
---
From the Blog
The Wild Robot will escape…next Spring!
I was blown away by the amazing response to my first novel, The Wild Robot. Thank you to everyone who read and shared it! I've been hard at work on the sequel, The Wild Robot Escapes, and I cannot wait for you all to find out what happens to Roz after she leaves the island. What I love most about writing children's novels is how it forces me to focus on what's truly important to the story. I don't want to bore young readers with… Read more…